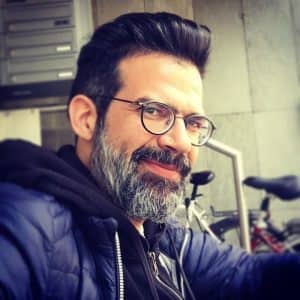 Nikolas Michos is a Certified Ashtanga Yoga Teacher (KPJAY Level I // Manju Jois Level I + II) and a Dharma Teacher in the tradition of Korean Zen under the lineage of Zen Master Seung Sahn. Since 2005, he has been studying directly with Manju Pattabhi Jois and Sharath Jois, son and respectively grandson of Sri K Pattabhi Jois, founder of Ashtanga Vinyasa Yoga at KPJAYI in Mysore India.
From 2005 to 2018 he practiced and assisted Kristina Karitinou in Greece, Switzerland, Italy and Germany in numerous trainings, Mysore and Led classes.As a great addition to his own practice and as a teacher, he counts on the experiences with Richard Freeman and Mary Taylor in Boulder (Colorado) and Thailand. The holistic approach to their teaching complements Niko's transmission of the profound Ashtanga Vinyasa Yoga teachings to his students in a very authentic way.
Since 2016 Niko lives in Germany. He founded Ashtanga Yoga Regensburg and has been building the ever-growing community of practitioners ever since. He currently lives in Munich and offers a Mysore Programm in Ashtanga Yoga Institut München.
Niko's teachings are shaped by an incredibly rich experience. He follows the traditional foundations of Ashtanga practice with humor, joy and passion.
Students of all levels are welcome to awaken the love of Ashtanga Yoga practice!